Our approach
To ensure the best outcome, Learning Dimensions Network applies behavioural based and best practice tools in all its organisational programs and, through this, we implement genuine and sustainable cultural change.
"People that complete our programs tell us they feel empowered to go out
and make a difference."
Paula Tabone, General Manager,
Workplace Dimensions
We have a strong reputation for delivering new ways of thinking and behaving inside workplaces in Australasia and beyond.
At an individual learner level, we focus on imparting skills that matter.

Our learners graduate confident that they are equipped with the practical know-how and ability to meet organisational requirements – or even prepare themselves for the next step in their careers.
Organisational Cultural Transformation
Our clients have clear goals to be better.
When organisations come to us, they are looking for better performance from their leaders, employees and their teams.
They want things done better, faster and safer – which almost always means aspects of their culture must change and we don't disappoint.
Our programs leave our clients employees more engaged, more productive, more accountable and more aligned to organisational priorities.
At Learning Dimensions Network, we work with all sizes of organisations, which encompass widely diverse industries, and we are proud of the repeat business and word of mouth referrals we regularly receive.
Think of us as cultural reshapers
Reshaping culture is a strategic, long-term investment for our clients, which is why they choose carefully who they partner with. We work with organisations that have a goal and need our help to reach it.
Our external consultancy offers an objective assessment of leadership and/or safety cultural factors that might be holding an organisation back. From there, we can build and facilitate a positive transformative program that can be embedded and sustained over time.
"Magic doesn't just happen. In our case, it's very deliberate." Melissa Williams, CEO
For us to weave transformative change, behind the scenes, we employ the strongest team of instructional designers, an experienced project management team and Australia's most skillful consultants and facilitators.
Then we create industry-leading programs, many of which are fully customised to our client, and all are based on best practice design that we know connects with and engages learners to the deeper levels of human conscience – the neuroscience of learning.
In short, we make the complicated simple and, by doing so, deliver practical skills that lead to meaningful and sustainable cultural change.
Our Methodology
Underpinning all consulting, coaching design and delivery is the recognition that transformative and sustainable change is a 5-step process and only possible once all steps are completed in sequence.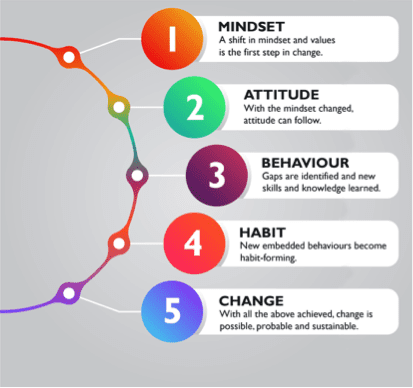 Learning Dimensions Network and our brands focus on both engaging the learner before the program begins and supporting learners following program completion to ensure the skills they've learned are embedded. Following our process means the impact of training is sustained into the future, delivering our clients a high return on their investment.
Our tools are coupled with Australia's top facilitators.
For more than 25 years, we've been honing our craft. During this time, we have developed tools that learners find easy to remember and use.
Our delivery concentrates on the learner and the environment in which they work. Tailored training is much more than adding our client's name to workbooks – it includes integrating organisational materials, policies, procedures and real-world examples into the learning to make it relevant.
When you take our tools and materials and couple them with Australia's top facilitators, you have the basis of a successful, sustainable program, which explains why so many of Australia's leading businesses choose to work with us.
Licensed Programs
Learning Dimensions Networks grants exclusive licenses to use its intellectual property for delivery by accredited in-house facilitators.
Although Learning Dimensions Network retains the intellectual property ownership, organisations opting for licensed programs can incorporate customised branding, and organisational policies and procedures as part of their program learning materials.
The Learning Dimensions Network licensed programs feature delivers significant benefits to those organisations that choose it. It allows for flexibility in program design and delivery. Through this service, organisations can access and deploy high quality training materials, fully customised, without incurring the full cost of the development of these materials and programs.
Learning Dimensions Network works alongside organisations to make and approve any custom changes to ensure that the quality and integrity of its licensed program is maintained.
Individual learners and our public programs
"People that complete our programs tell us they feel empowered to go out and make a difference."
Paula Tabone, General Manager, Workplace Dimensions
We've been training and coaching people for more than 25 years, so we consider ourselves expert at it.
Workplace Dimensions is a Registered Training Organisation (RTO) that delivers face-to-face nationally accredited programs imparting skills and knowledge that help them to take their careers to the next level.
The general public can enroll in our open programs, or we can deliver in-house custom training for groups with a minimum of 8 learners. We have worked with some of Australia's biggest and most innovative, influential companies delivering customised training to their teams.
Our learners know that keeping current with their skills offers them the best chance of landing their dream job, no matter the industry. When a learner broadens their skills, they become even more valuable to their employer and new career opportunities open up for them.
We deliver our accredited public program training all around Australia's capital cities (and some regional areas) and we are experienced in working with people from diverse backgrounds and industries who may not have studied recently. We use discussions, group activities, videos, case studies and practical examples to make the learning process less intimidating and more engaging.
Being a Registered Training Organisation (RTO) means we are nationally recognised as providers of quality-assured qualifications. Our approach is to deliver industry-leading programs that fit into your personal and professional goals.
Bespoke Programs
Organisations invest in training to improve their teams' knowledge and skills, but because people learn differently and have diverse skills sets, sometimes a traditional training program may not be the most effective way forward.
The bespoke programs developed by Learning Dimensions Network are tailor-made to exactly meet the needs of an organisation and the learners that participate in them.
They allow clients to prioritise areas of where there is a specifically identified skills gap so the training is focus fully on meeting organisational needs. Because they are tailor-made, our experience shows that bespoke programs are excellent for improving overall employee understanding of how their organisation works and thinks.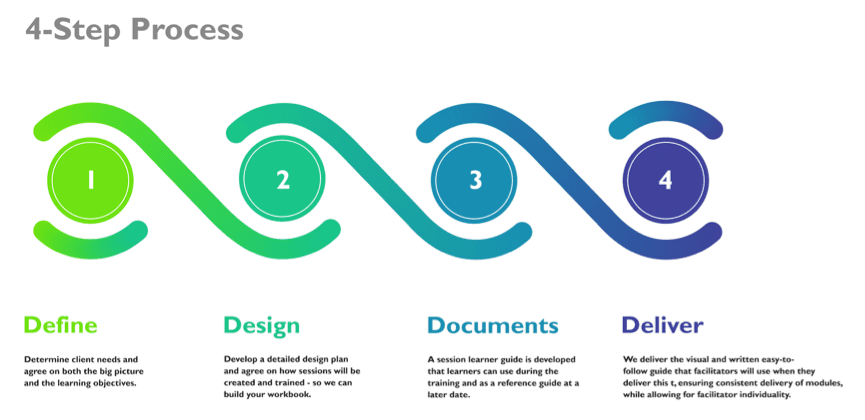 Learning Dimensions Network follows a 4-step process to develop a bespoke program. Each step in the process builds upon all decisions in the steps before it. Our clients remain closely involved in each step, so that they can have confidence and reassurance that the training program that is being designed fully meets their needs.
Define:
In the define step, we work with clients to understand both their learning objectives and key messages for all training modules.
Design:
During design, our instructional designers will expand out training modules and provide a framework for design, including activities, structure and overall design.
Documents:
Session learner guides are developed which are resources that learners can use during training and as a reference tool later on.
Deliver:
In this step, we provide easy-to-follow facilitator resources, including visual and written guides, to ensure consistent delivery of modules that allow for individual facilitator input and value-add.
Funding
By offering funding, subsidies and grants, governments and industry bodies throughout Australia are helping more people get industry specific skills and qualifications to build to real life employment pathways and lasting careers while also meeting the needs of industry.
There is a comprehensive framework of funding schemes and incentive opportunities available for people wanting to undertake high quality learning at certificate level.
Encouraging this type of training has long been recognised as a key contributor towards Australia's goal to create competitive advantage globally through productivity enhancements that emerge from learning and development.
Learning Dimensions Network offers full and part industry subsidies for some of our programs.
To check the eligibility for funding for an individual or an organisation, or for more information related to funding, please email info@ldn.com.au.
Lets' start something new
Please select a valid form.
Think we can help? Get in touch

here

or call us on 1300 453 555.