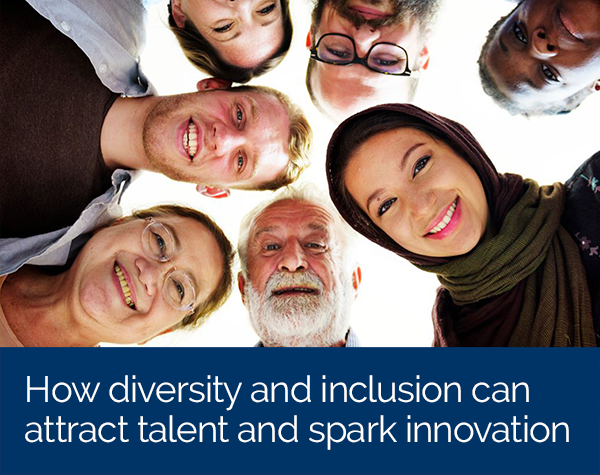 The war for talent is beginning to heat up again. Factors influencing this are staff shortages, reductions in international work visas, more opportunities for people to work remotely or flexibly, and a change in the business landscape after two years of the pandemic. This includes the concept of the 'great resignation' where workers are reassessing if their current workplaces and arrangements reflect their personal values and wider life goals and considering their options.
Employees looking to move have more choice of employers than ever before.
One way that organisations can attract talent in this competitive environment is by focusing on attracting and developing a diverse and inclusive workplace. Diversity is about reflecting the communities we operate in, and a diverse and inclusive workplace ensures everyone, regardless of role, nationality, orientation, or identity feels equally involved and valued in the organisation and its growth.
Research shows:
76% of job seekers say that a diverse workforce is an important factor to them when considering companies and job offers (1);
72% of employees reported that they would leave or consider leaving an organisation for one with greater inclusivity (2);
80% of full-time employees say that inclusion is an important factor to them when considering companies and job offers (3);
Diversity and inclusivity improve employee engagement, which in turn increases retention by 19% and collaboration by 57% (4).
The benefits for companies creating more diverse and inclusive workplaces are not only to attract talent, but to invigorate workplaces and spark innovation.
Organisations made up of people who all think the same way can have trouble identifying their blind spots or may find it hard to step out of the "group think".
Bringing together people who are encouraged to think differently, from diverse backgrounds, experiences, and perspectives creates an environment that can stimulate new ideas, innovations and efficiencies to help solve problems or meet clients' and customers' needs.
As evidence of this:
Deloitte Australia research found teams that are both diverse and inclusive outperform their peers by 80% in team-based assessments
Boston Consulting Group, in an extensive study across 171 companies found a dramatic and direct correlation between how diverse and how innovative they were
Harvard Business Review, in a more extensive study, found just as strong a correlation between diversity and innovation
Cloverpop – a decision-making online platform – discovered that teams that score high on diversity show a 60% improvement in decision-making.
The research is compelling. Embracing diversity of thought, gender, age, race, beliefs, and other preferences to create an inclusive environment, gives a business a significant competitive advantage.
If this isn't compelling enough, think back to primary or secondary school when you've been bullied or excluded – how did you feel? Everyone wants to feel like they belong so they can bring their best selves to work, creating an inclusive workplace fills this need, increases retention, as well as sparks innovation.
LDNs leadership division Leadership Dimensions has a thought-provoking one-day program that gives participants an understanding of the personal and economic need to embrace inclusion practices, and the benefits, barriers, and expectations of what it means to live and work with diversity, inclusion and belonging.
This program is aligned to the nationally recognised Diploma-level unit of competency, BSBLDR521 Lead the development of diverse workforces.
This program can be customised for your industry and workplace, and we can deliver the one-day program either face-to-face at your workplace, or via our live instructor-led online platform using Zoom or TEAMS.
Find out more about the program by emailing us at info@ldn.com.au, using our contact form or calling us on 03 9510 0477.