A leader's role in workplace safety (2-day program)
LIVE AND ONLINE TRAINING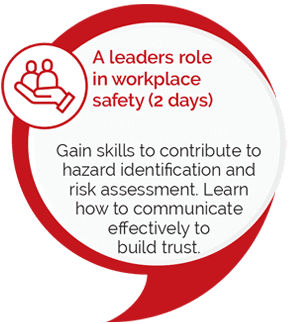 Within this module, workplace leaders gain the skills to contribute to hazard identification and risk assessments and learn how to communicate as a workplace leader to build trust. This module explores the skills and knowledge required to contribute to WHS risk management including the processes for identifying work health and safety (WHS) hazards and assessing and controlling the risks relating to those identified hazards according to legislative and organisational requirements.
Participants will gain the skills and knowledge required to understand different communication contexts, how to choose methods of communication to suit the audience and the importance of follow-up. At the end of this 2-day program, participants will be able to:
• discover the role and importance of communication and consultation in minimising harm at work including accessing information and data used to identify hazards and to assess and control risks and how to clarify messages and create engaging and effective communication;
• define the purpose and need for follow-up actions for different communications;
• identify accurate communication context and contribute to identifying risk management requirements and compliance; and contribute to workplace hazard identification and risk assessment
Gain nationally accredited units of competency.
When you've attended this module, have successfully completed your assessments and are deemed competent, you'll receive a statement of attainment showing the units of competency gained.
Units covered in this module:
BSBLDR412 – Communicate effectively as a workplace leader

BSBWHS414 – Contribute to WHS risk management
This two-day module is supported by workplace application and assessment and delivers two units toward BSB41419 Certificate IV in Work Health and Safety.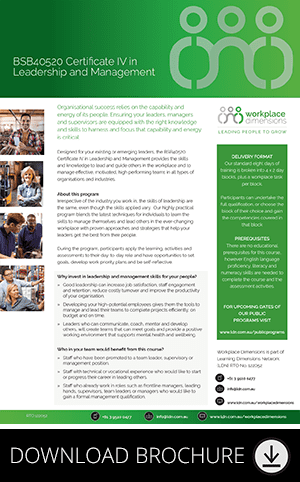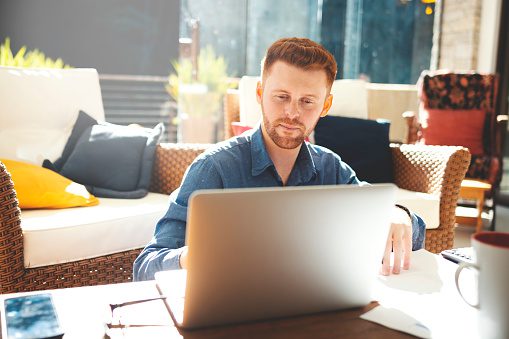 OUR ONLINE DELIVERY FORMAT
This program is delivered via Zoom with a live facilitator, in a real-time, interactive training environment that you can access from anywhere via an internet connected computer or device. This is not a pre-recorded online program – it is the same experience as our highly interactive face-to-face programs.
BOOK NOW
A leader's role in workplace safety (2 days)
Time each day: 8.00am-4.30pm EST via Zoom.
Investment: $750* AUD per module
*Note GST does not apply on accredited training.
Before enrolling in this program, ensure you've downloaded and understood the student handbook.
It explains your rights as a participant in our programs and the policies and procedures relevant to your enrolment into a nationally recognised qualification program including the cancellation, refund and transfer policy, including what happens if we cancel a program.
By clicking "Enrol Now" on the last page of your enrolment form, you are agreeing to the terms and conditions contained within the handbook.
Download the handbook here: https://ldn.com.au/handbook
| | | | | | | |
| --- | --- | --- | --- | --- | --- | --- |
| Name | Date | Time | Location | Available Spaces | Cost | Enrol Self |
| WD - Cert IV WHS - Module 1 | 1 & 2 February 2024 | 08:00 am – 04:30 pm | Zoom/Melbourne | 29 | $750.00 | |
This module is part of the BSB41419 Certificate IV in Work Health and Safety.
Designed for those working as supervisors, WHS personnel, or workers, the BSB41419 Certificate IV in Work Health and Safety provides the skills and knowledge for those in any WHS-related role to manage risks, apply relevant WHS laws, and to contribute to WHS within the workplace.