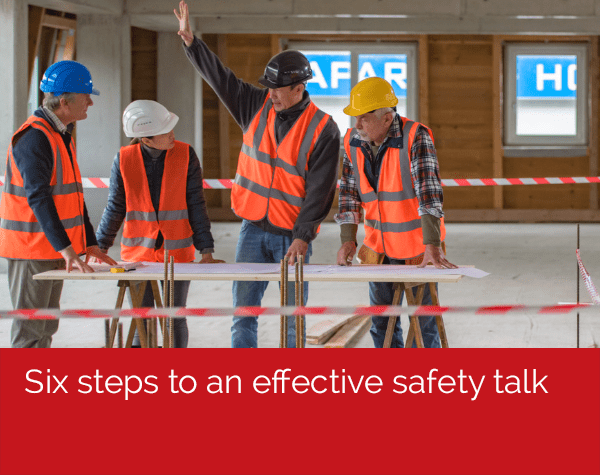 How do you deliver a knock-out workplace safety talk to your staff or leadership team?
One of the challenges many senior leaders come to us with is how to craft a safety talk (or public address) that:
Isn't boring
Demonstrates that they genuinely value the safety of their workers ahead of financial, sales or production performance
Isn't just a rehash of the corporate mission or edicts
Most leaders recognise the need for clarity on why safety is important and what's expected, and to provide opportunities for audience engagement and participation, especially when communicating changes to work practices or policies. However, actually doing this in a way that doesn't lead to derision or hostility is a challenge.
One of the biggest differences between leaders that capture the hearts and minds of their audiences and those 'going through the motions', is the framing and context of the purpose behind it. If you just speak about the need to improve safety performance, lag indicators such as LTIs or near misses, changing culture or meeting your corporate vision – devoid of any practical actions or performance measures that can be understood and followed – it's a hollow talk and is likely to have people concentrating on the wrong things.

How to deliver a knock-out safety talk – a basic structure:
Establish where you are at.


Understand how we (as an organisation/division/department/team/crew) are going in our safety performance right now. Great leaders will include safety when they talk about overall business performance, warts and all, recent events, successes and failures. This helps safety come alive in the organisation.

Challenges & stories.

Explain the current challenges/opportunities from an individual, team and organisational perspective that illustrate the human impact of a safe and unsafe work space, rather than simply listing facts. Focus on positives wherever possible, without diminishing the impact of the incident or near miss and explain how it won't happen again because of a new process, the new behaviours people have formed, the agreement and acknowledgment that safety is everyone's responsibility, etc. Great influencers (leaders) tell stories.

For example, recently a Chief Financial Officer shared a story about walking whilst texting in the office car park, twisting his ankle, snapping a tendon and not being able to walk. His opening line was "people in offices believe the only injuries they are likely to receive are paper cuts. Let me tell you, they are wrong." He had the whole organisation closely listening and had them recognise that mindfulness is more than something you do – it's a way of being. This story is still being told over water coolers and is further reinforced every time the CFO walks around as he still has a slight limp.

What behaviour do you want?


Be clear on what people need to do to continually improve safety performance.  How and when do we plan to do this? What are the outcomes: improve safety performance/lag indicators such as LTIs or near misses, changing culture or meeting your corporate vision? Safety is more than statistics, it's about people and it's personal. People need to know what they need to do, not just what they shouldn't do. The best speakers are also clear on how they'll measure this safety performance, both personally and as an organisation. This also helps to build credibility among skeptics.

Gather resources & support.

What support and resources we'll need to put in place to help us achieve this? As a leader, demonstrate your support to the team and your personal conviction towards safety.

Ideas/roadblocks.


Invite the audience to share what ideas, concerns, opportunities or questions they have around this to meet this challenge. Try to plan for what these challenges or concerns may be so you can address them immediately.

Gain commitment.


What commitments do we – at every level of the organisation – need to make? For example, I am committing to A-B-C and this will be measured by 1,2,3. I will be following up on your progress by 1, 2, 3, 4, 5. Great leaders act as role models by behaving safely at all times, complying with rules, watching others, helping identify at risk behaviour and addressing it immediately, identifying hazards, reporting on them and working with others to eliminate them.
As one CEO of a major manufacturing business said recently, "A leader's role in safety management goes far beyond any safety pep talk. It is the follow-up that really moves a safety culture. People and organisations respond to what they see the leader doing. As a leader, if I want results on safety then I have to spend time on it."
So what's your commitment?