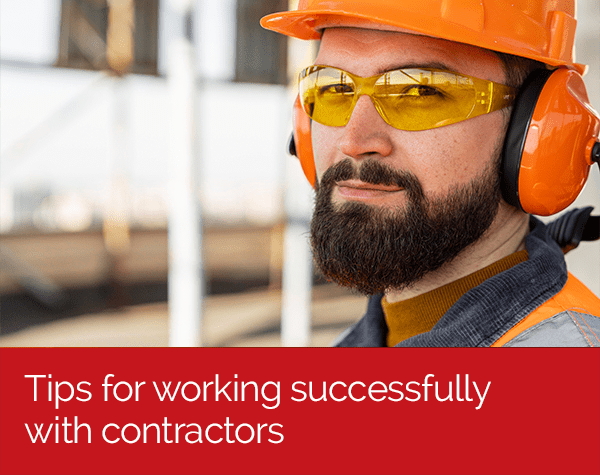 Organisations are increasingly including contractors in their internal training, so everyone is aligned under a single Health & Safety framework.
Not only is this beneficial for the alignment of safety behaviours, but from a WHS compliance perspective, you have a duty of care to everyone who walks on site – and this includes your contractors

.
Here are our top tips to help you meet your WHS obligations and make partnering with your contractors run smoothly.
1. Know your obligations
Do you know your legal obligations when it comes to your contractors? If you don't know how can you plan to be compliant?
Persons Conducting Business or Undertaking (PCBUs) must ensure the health and safety of all workers, including :
those who are engaged or are caused to be engaged by the PCBU – this includes contractors.
those whose activities in carrying out work are influenced or directed by the PCBU.
You can check out our video below "WHAT AM I ACCOUNTABLE FOR?" which covers information about your general obligations.
2. Communication and consultation
Communication and consultation between you and your contractor is a WHS legal obligation. Early communication prior to engagement is critical in setting up a successful partnership. Ongoing communication is the key to ensuring project success. In all communication, be approachable and communicate clearly and succinctly so there's no room for misunderstanding or errors. When the lines of communication are easy and each side knows the expectations, issues can be prevented, and more gets accomplished.
3. Align contractors with your safety standards
Contractors can't meet your standards if they don't know what your standards are. All contractors need to go through a safety induction. Does your induction clearly state your standards and the behaviours you expect? Where there are ongoing contractor relationships, get them involved, include your contractors in your internal safety training, safety courses and safety briefings.
4. Appropriate leadership and supervision

Contractors are often used to being their own bosses. Therefore it is important to have a plan and agreement with your contractors relating to leadership and supervision. If day-to-day supervision is not part of the plan, then it should include regular project meetings to review progress, performance, safety, and quality.  Keep a record of the communications and documentation you share with contractors so everyone is clear on who needs to do what, when, and how.
Want to learn to manage contractors?
Contractors and Workplace Safety (2 days) program



About our Contractors and Workplace Safety program:
Whether you are a contractor, or you work with contractors, the law is very clear about WHS obligations on both sides.
This module develops the required skills and knowledge to assist with establishing and maintaining workplace compliance with work health and safety (WHS) laws. This includes identifying applicable WHS laws, duties, rights and obligations, and the necessary actions to ensure WHS compliance in the workplace, assisting with providing advice about the legislative duties, rights and obligations of individuals and parties prescribed in WHS laws and those of WHS regulators.
Participants will also develop an understanding of requirements to assist in managing the work health and safety (WHS) implications of using contractors. It involves identifying contractor duties, establishing organisational WHS compliance requirements associated with those duties, establishing and communicating the requirements expected of contractors, monitoring contractor compliance with WHS requirements, and implementing required responses to identified non-compliance.
This program can be taken on its own, or as part of our BSB41419 Certificate IV in Work Health & Safety program.
Upcoming dates for this program: 16 & 17 January 2023
Find out more about this 2-day program below: