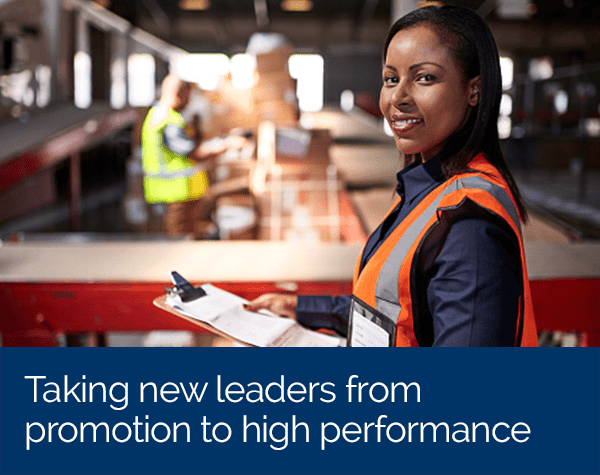 During the current skills shortage, many employers are promoting internal candidates into leadership and management roles, even if they don't have the foundational skills in leading people. So how do we set up new leaders for success?
There are inherent positives yet also risks in promoting people to leadership positions when they are unprepared with the skills to lead. The major benefit is the person is a 'known quantity',  however, are they?  Leading a team requires a very different skill set from working within a team and can pose risks.  Without support, risks include decreased productivity, lower performance, stress to the leader and the team, and low morale. The list goes on.
Therefore, it is important to provide new leaders with the skills and knowledge to master this tricky yet incredibly rewarding promotion.
Here are the 5 essential skills a new leader needs to thrive:
1. Understand the new role as a leader and manager and own it
It can be challenging and uncomfortable when newly tasked with the authority for managing those who may have previously been their peers and friends.
The first step is understanding the difference between a leader and manager and recognising both are needed upon promotion.
To confidently move from peer to leader they need to:
Set a time to share the vision and goal for the team and set clear expectations.
Establish boundaries and role model the behaviours they expect from others
Encourage feedback and open and transparent dialogue; and
Empower people to shine.
2. Learn to manage different personality types and communication styles
To get more out of a team, leaders should flex the way they communicate to the preferred communication styles of others and understand a team's motivations, values, and commitments.  This is now their responsibility, not their team's.
When a new leader develops the skills to give effective feedback, constructively engages in conflict by listening to different perspectives, and deals with others respectfully, they build the trust and robust relationships that underpin high-performing teams.
3. Delegation 
When someone is promoted to the leader based on competency in their role, they may find it difficult to 'let go' and delegate or trust other people to take on their previous role to the standards they expect. New leaders need the self-confidence to be able to delegate work to others, set clear and achievable expectations, give constructive feedback, and be willing to train, develop and mentor their team members to a high level of competency.
4. Maintain productivity while empowering others 
Leaders quickly understand their performance is measured on the output of their team!  The key to this is staying one step ahead to minimise disruption and problems.
Learning to plan and evaluate the resources available, and prioritise how those resources are deployed is crucial to create efficiencies that are essential to a high-performing team.
5. Innovation and critical thinking 
Leaders need the skills to solve problems, think quickly, innovate and make decisions in an ever-changing environment.  For a new leader, learning how to plan and manage contingencies that arise when implementing something new, and how to evaluate and test ideas for solutions to problems is a critical skill to manage operational plans and increase productivity.
Leadership is a learned skill. Investing in leadership training and the development of your team can take your new leaders from promotion to high performance.
Find out more about Leadership Dimensions solutions and programs below.